I have found this list of "
20 (Almost) Effortless Waiting Games For Your Kids
" in a curious web site called
More Than Mommies
. The idea to make this list came out when you are with your kids "
stuck waiting and patience is growing thin
".
The best part about the list is that to play the games you are required to bring yourself and your brain to the table and nothing else--no need to dig for a pen, paper, missing game pieces, bulky boards. The games will leave children unplugged and connecting with other partners "in no time flat". The problem is that some of them require a pretty good level of language to be played: adaptation is paramount!
I Spy
. We start off the game by picking an object in the room and saying "I Spy with my little eye something...blue" and then everyone takes turns guessing what is spied. The winner of the round chooses the next object.


I'm Thinking of An Animal, Person, Place or Thing
It's another easy one. Just choose an Animal (if the kids are older you can choose to play using famous people, places or favorite things) and then everyone asks yes or no questions about your animal and tries to guess what it is. For example: I chose COW. The kids ask: Does it live on a farm? Yes. Does it swim? No Does it eat Grass? Yes Does it give milk? Yes Is it is COW? Yes! It's fun to try to stump them.
How's Yours
How's Yours is best played in a group of at least four people. One person leaves the group and those left agree on an item...let's say "toothbrush"--The guesser returns and takes turns asking each person "how's yours?" the players give a word or short phrase to answer the question. I say "Bristly." Child one says "soggy." Child two says "green." Child three says "chewed." The guesser shouts out the answer as soon as he or she thinks of it and if he guesses on your word than you become the next guesser.
Thumb Wrestling
Lock your right hand with your opponent's hand with thumbs up. Move your thumbs side to side and you both chant "One! Two! Three! Four! I declare a thumb war!" and then try to pin your opponent's thumb with your thumb without letting go of their fingers. Once pinned, your opponent has 10 seconds to wiggle free before you win!
Rock, Paper, Scissors
The rock is a balled fist. The paper is a flat palm. The Scissors are the pointer and middle fingers sticking sideways. Rock beats Scissors. Paper covers Rock. Scissors cut Paper. Simply say "Rock, Paper, Scissors...Shoot" and everyone throws their choice into the center of the circle. It's also a good way to choose who will be the first in a game.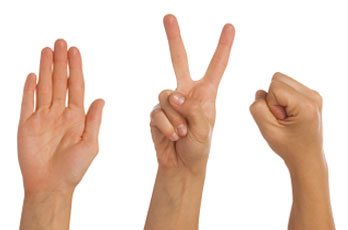 I'm going on a Picnic
This is an alphabet/memory game. Start the game by saying "I'm going on a picnic and I am bringing an Ax" (or Apple, Anaconda, Aardvark--any "A" word) The next person says "I'm going on a picnic and I am bringing and ax and Bananas" The next person tries to remember everything the person before brought and adds their word to the end in alphabetical order. When the person can't remember all the items in order they are out. The winner is the person who can remember the entire list when no one else can!
The Telephone Game
The telephone game is best played with a larger group. Choose a long-ish phrase to whisper quickly into the ear of the person next to you. They then whisper what they heard into the next person's ear. You all giggle and laugh when the last person says the phrase aloud at the end and you see how much it has changed!


Mental "Hide and Seek" (A Variation of "I'm Thinking of")
Pick a place in the classroom. The other players ask "yes" or "no" questions until they "find" you. This works best for older kids-ones that won't cheat by "moving", and ones creative enough to think of clever places to "hide."
But why limit yourself to hiding in the room that you are in. Keep the fun going by hiding in the "movies." The person hiding will give away the title. For example, "I'm hiding in 'The Little Mermaid' ". The person hiding then picks a scene and hides in an object in that scene--like the snarfblat or in Triton's trident. It helps to stick to movies everyone has seen numerous times.

Don't Laugh CopyCat!
As the leader you can move any way you wish, or choose exaggerated facial expressions. Everyone must copy you... withOUT laughing! Not even a giggle. Anyone who makes a peep is out of the game! What a fun challenge!
Guess a Number/Guess a Letter
Pick a number 0-100 and the players try and guess the number. It's kind of like "I spy" with numbers in your head. You can give hints like "higher" or "lower" to get the players on track.
Higgy Piggy
This game it is best played with kids who are old enough to get the concept. The idea of Higgy Piggy is to create a riddle who's answer is two rhyming words.It's a great way to teach synonyms and rhyming. One person comes up with the question and the rest guess. For example: Q. What is a noisy thunderhead? A. A loud cloud. Q. What is hair for a hog? A. A pig wig. Get it? Got it? Good!

--------
Can you think of any other waiting games? Do you use them in your class? What's your favourite one or the one children cannot stop playing? Leave them in the comments and we all can get a great bank of games and ideas for our ESL classes!