Learning English as a Second Language benefit greatly from interactive
writing activities
. Writing provides ESL students a way to combine their speaking, listening and reading experiences into a creative expression of learning English. Beginner students, especially elementary students, need constant encouragement and guidance to improve their writing.
The problem is, where to find good prompts and ideas to encourage children to write.
Here you are some links may help you.
124 Free Creative Writing Prompts Worksheets like this one about The Gruffalo's child.
Some good proposals for guided composition, writing practice and reading.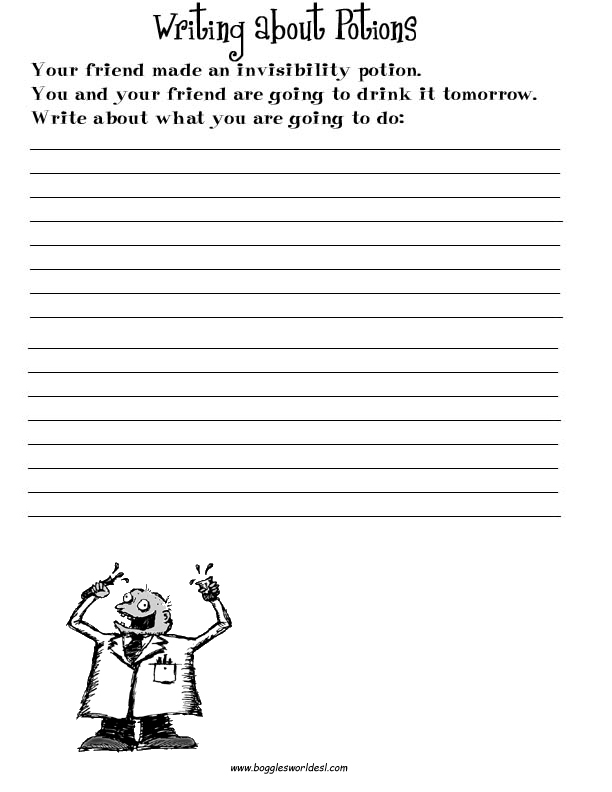 Story starter

worksheets that can can be used both in class or as weekly homework assignments. Funny proposals like this one...
I also love the following
Ten ideas for to keep children writing
. They come from an old paper
originally published as a booklet for the 2002 NWP (National Writing Project) Annual Meeting.
They helped me a lot to
confront the challenge of motivating my students to want to write.
Writing need not begin and end at the classroom door

Writing can connect children to their communities.

Children like to write to other children.

Students write best about what concerns them most.

Students are motivated to write when good writing is recognized.

Young writers need to do real writing.

Children benefit when parents are part of the literacy loop.

If a school recognizes the importance of writing, so will the students.

A published student writer is a motivated student writer.

With student writing, to celebrate is to motivate.
And just one more thing:
Use short, incremental daily writing lessons to help ESL students learn English through writing activities.